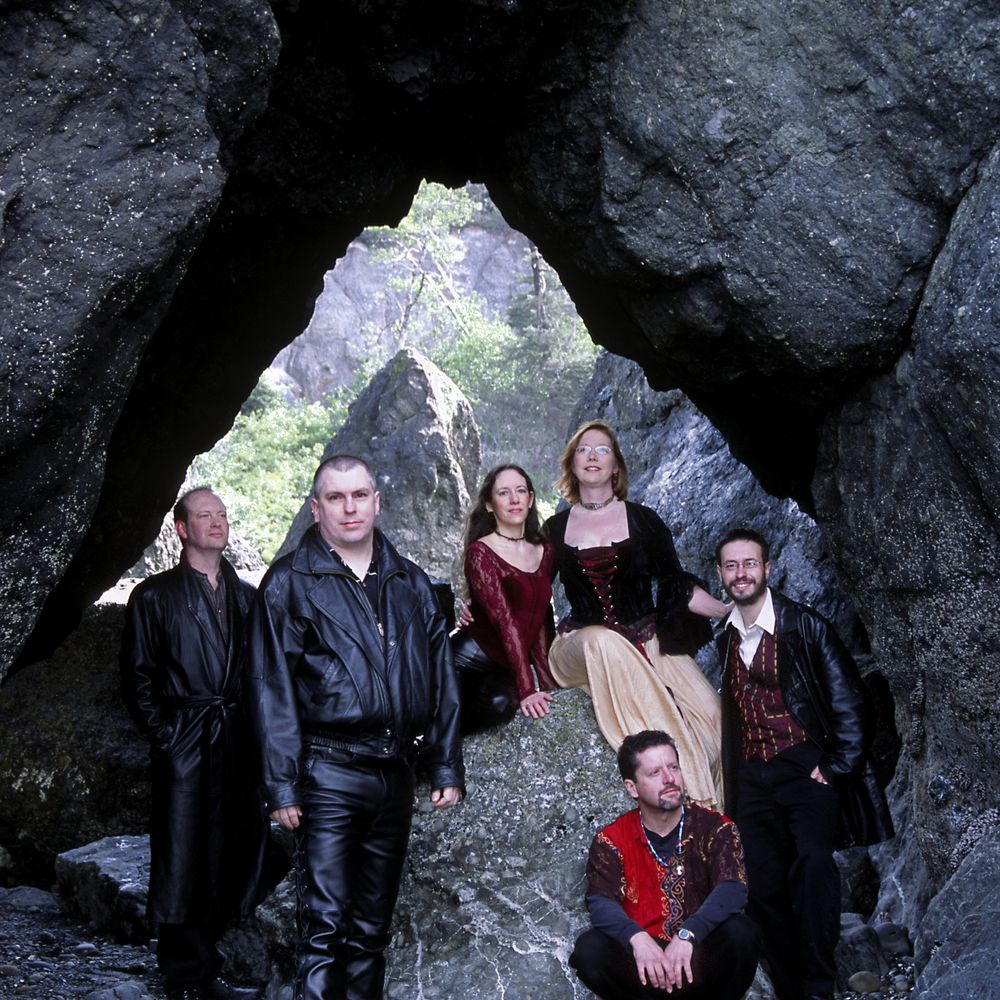 Gaia Consort
Celebrating the Living Earth Since 1997
In the summer of 1997, Christopher Bingham and his wife, Sue Tinney, debuted a bunch of new songs in a set at Washington state's Nudestock, playing for 800 naked sun worshipers. It was just the two of them, Bingham on guitar and vocals,  and Tinney singing harmony, but by the end of the set, the crowd was on it's feet, and Gaia Consort was on it's way.

Dubbed the "Pagan / Gaian group of the year, if not the Millenium by Sagewoman Magazine" for Gaia Circles, they hit the zeitgeist in Pagan and earth celebratory communities, and four albums and more than 20 years later, Gaia Consort lives on in playlists around the world.

In 2009, they changed the name to Bone Poets Orchestra, hoping to expand their audience, and the themes of the music. Another four records under the BPO flag didn't garner the larger audience, but the musical landscape expanded into a kind of psychedelic chamber pop that still gets people off their feet and singing along.  
The sound is hard to pin down stylistically.  Bingham, singing lead, and playing lead guitar has a clear tenor that gets compared to David Crosby or Dave Mathews. Sue Tinney on co-lead and harmony vocals is a breathy alto reminiscent of Norah Jones. The string arrangements often sound like a nod to War Child era Jethro Tull. The rhythm section genuflects to Peter Gabriel's drum sensibilities, with a Jaco-esque moments in the bass lines . There is hammond throughout the keyboards, and plenty of mellotron. The groove fits the lyric content, which inspires allegiance if you celebrate the natural world, polyamory, or have ever dipped your toes into psychedelic and alternative culture.
They've always been a "concert band." Eschewing the club scene, the consort built their audience by self-producing house concerts, renting community centers, small theaters, and eventually getting into some festivals. (Heartland 2000, Faerieworlds main stage for five years running 2005-2009, others.)
Long before Kickstarter, Bingham crowd-sourced his recordings. (Adopt-a-Song!) Over the years, fans have donated over $100,000 to make these records happen.
Live, Bingham leads with stories - sometimes visited by his alter ego, St Crispy, Patron of Flashbacks and Household Clutter - and there is a fair amount of singing along, and dancing too. Bone Poets Orchestra's current line-up is an impressive group of world class players. Sue Tinney sings co-lead, Emmy Award winning co-producer Jay Kenney plays keyboards, Dan Mohler is on fretless bass, with Grammy nominee TJ Morris on drums, Larry Golding on violin, Sunnie Larsen on viola and voice, and Taryn Webber on cello and voice.

Christopher Bingham / Gaia Consort/ Bone Poets Releases:

 
Gaia Circles - 1999

Secret Voices - 2001

Evolve - 2004

Vitus Dance - 2007

Belladonna Smiles - 2010

Atheist Anthems - 2011

Ecstasy in the Ruins - 2014

Edge of the Western World – 2016
Tastes Better When You Share - 2019
For more information contact Christopher Bingham at chris@bonepoets.com
or 425 387-4368